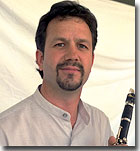 Fred Rast
Instrument: Saxophone Teacher, Clarinet Teacher
Store: Union Store
Musician for 30+ years
Teaching since 1979 at Music Village Lessons for ages 7 and up
Musical Influences: Richard Stoltzman, John Coltrane, Kenny Garrett
Email address: MPCmaker@yahoo.com
A little background....
Fred Rast has been teaching clarinet and saxophone in San Jose, CA, for the last 23 years after studying music at San Jose State University. Fred has taught at Music Village alone for over 20 years working with student 7 to 70 years old. He is involved in a number of musical groups covering a wide range of styles. Some of these groups include playing clarinet in the Saratoga Symphony, lead alto sax in the "Bob Bouchard Big Band" abd a host of various ethnic bands. Some if these groups include "The Alpiners", playing a variety of European music, Jose Bowen's Klezmer band. He has recorded with "Paul Price's Society Orchestra", "Chico Bavarian Band" and "Marijan Kramar's Oberkrainer Band."
We carry all the major brand names from
- Bach trumpets and trombones,
- Selmer saxophones,
- Conn trumpet and trombones,
- King trumpets and trombones,
- Yamaha flutes clarinets saxophones trumpets and trombones,
- Buffet clarinets,
-Tiery Oboes by Fossati,
- Glaesel violins,
- Cannonball saxophones and trumpets,
- Armstrong flutes,
- Getzen trumpets,
- Gemeinhardt flutes,
- Amadeus flutes by Haynes ,
- Scherl & Roth violins,
- Michael Kelly guitars,
- Greg Bennett guitars,
- Samick guitars,
- Latin Percussion bongos and congas,
- Toca bongos and congas,
- Ludwig drums,
- Walden guitars,
- Kustom amplifiers,
- Takamine guitars,
- Kala ukuleles and many, many more!
2971 Union Ave
(at Foxworthy Ave)
San Jose, CA 95124
408 377-2504
5885 Santa Teresa Blvd
(at Snell Ave)
San Jose, CA 95123
408 629-1812
Store Hours
M - Th: 10 am - 8 pm
Fr: 10 am - 6 pm
Sa: 10 am - 5 pm