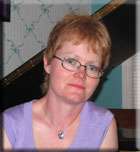 Liz Herman
Instrument: Piano Teacher
Store: Union Store
Liz Herman has taught piano full time since 2000. She offers lessons from 4 years-adults, beginner through advanced levels of playing. Liz brings a love of teaching as well as a love for music to her studio believing that every child is musical. Lessons are taught in the classical style as well as utilizing methodology from Taubman, Alexander & Suzuki techniques to name a few.
Playing professionally since 1977, Liz has been the ongoing accompanist for numerous instrumentalists, vocalists & performance groups, as well as a rehearsal accompanist for Children's Musical Theater. In the past she has served as music director & organist for Homer United Methodist, Divine Shepherd Lutheran & St Phillip Neri Catholic churches. She is currently at Congregation Shir Hadash.
Professional organizations include the American Guild of Organists (AGO), Music Teacher's National Association (MTNA) and Music Teachers Association of California (MTAC).<
Liz completed a BSN from Saginaw Valley State University, and is currently pursuing a masters degree in piano pedagogy.
Email address: Pianorague@verizon.net
We carry all the major brand names from:
- Bach trumpets & trombones
- Selmer saxophones
- Conn trumpet & trombones
- King trumpets & trombones
- Yamaha flutes clarinets saxophones trumpets & trombones
- Buffet clarinets
- Eastman violins
- Cannonball saxophones
- Armstrong flutes
- Gemeinhardt flutes
- Michael Kelly guitars
- Greg Bennett guitars
- Samick guitars
- Cordoba guitars
- Deering banjos
- Kremona guitars
- Yamaha guitars
- Latin Percussion bongos & congas
- Ludwig drums
- Peace drums
- Kustom amplifiers
- Vox amplifiers
- Magic Fluke ukuleles
- Kala ukuleles
2971 Union Ave
(at Foxworthy Ave)
San Jose, CA 95124
408 377-2504
5885 Santa Teresa Blvd
(at Snell Ave)
San Jose, CA 95123
408 629-1812
Store Hours
M - F: 11 am - 8 pm
Sa: 10 am - 5 pm