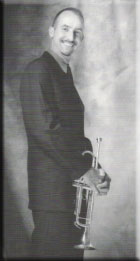 Jeff Lewis
Instrument: Trumpet Teacher
Store: Union Store
Musician for 32+ years
Music teacher for 22 years. Teaching since 1985 at Music Village. Lessons for all ages.
Teaching style: all styles
Teaching experience:
1985-present: private music instructor, Music Village, San Jose, CA
2003-present: trumpet coach, Logan High School, Union City, CA
2006-present: Professor of Jazz, San Jose State University
1993-2000: private music instructor, Campbell Music Center, Campbell, CA
1981-1999: private music instructor, A&L Beacock Music Studios, San Jose, CA
teaching philosophy: "Every student's needs and desires are unique. Whether you are a beginner, intermediate, or professional, I will tailor the lesson to fit your needs and wants."
Musical Education: BA in Jazz Performance, San Jose State University
Musical Credits Include: Boz Skaggs, Ray Charles, B.B. King (recorded on the Grammy winning "Duets" album), O'Jays, Four Tops, Huey Lewis and the News, Shirelles, Drifters, Coasters, California Symphony, Civic Light Orchestra, Joe Lewis Walker, Conjunto Cespedes, Pete Escovedo, Tim Hagans, Martha Reeves, the Temptations, Steve Turre, and Jon Faddis.
Musical Influences: Freddie Hubbard, Clifford Brown, Wynton Marsallis
A musical quote... "Because of music, I have been able to travel the world and see people, places, and things I would never have dreamed of. I feel fortunate that I can teach music to children and adults who are willing to tackle this exciting endeavor."
We carry all the major brand names from
- Bach trumpets and trombones,
- Selmer saxophones,
- Conn trumpet and trombones,
- King trumpets and trombones,
- Yamaha flutes clarinets saxophones trumpets and trombones,
- Buffet clarinets,
-Tiery Oboes by Fossati,
- Glaesel violins,
- Cannonball saxophones and trumpets,
- Armstrong flutes,
- Getzen trumpets,
- Gemeinhardt flutes,
- Amadeus flutes by Haynes ,
- Scherl & Roth violins,
- Michael Kelly guitars,
- Greg Bennett guitars,
- Samick guitars,
- Latin Percussion bongos and congas,
- Toca bongos and congas,
- Ludwig drums,
- Walden guitars,
- Kustom amplifiers,
- Takamine guitars,
- Kala ukuleles and many, many more!
2971 Union Ave
(at Foxworthy Ave)
San Jose, CA 95124
408 377-2504
5885 Santa Teresa Blvd
(at Snell Ave)
San Jose, CA 95123
408 629-1812
Store Hours
M - Th: 10 am - 8 pm
Fr: 10 am - 6 pm
Sa: 10 am - 5 pm