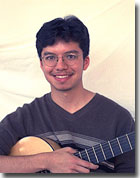 Daniel Yarritu
Instrument: Acoustic Guitar Teacher, Electric Guitar Teacher, Guitar Teacher
Store: Union Store
Electric, Steel string and Classical guitar. Musician for 14 years.
Music teacher for 11 years: I started teaching guitar at age 17 while performing extensively at Independence High School and locally. I started teaching privately when people began asking for lessons.
Teaching location: Cambrian store since 1998. Days: Currently, only Saturdays at Music Village. Lessons for age 9 and up.
Teaching style: I really love all kinds of guitar music but I spend a lot of time with the classical guitar. I have students studying everything from classical music to metal, jazz, blues, nouveau flamenco and folk guitar and steel string fingerstyle music. Students participate in recitals, solo and in ensembles and compose, record, and perform music.
Education: I graduated in 2004 from SJSU with Honors in English Literature and at the same time was a BM Candidate in Classical Guitar performance at SJSU. I left the music program early to play professionally. I studied privately with James Robinson, Peppino D'Agostino, Ken Schroeder, Antonio Calogero and Bahraam Behroozi, and in master classes with Denis Azabagic, Lily Afshar, and in France with Johann Fostier and Silvina Lopez. I've also taken classes at SJSU and UC Santa Barbara in combination with other instruments: guitar ensemble, flute and strings etc.
Groups: Solo guitar- flute and guitar duo with flutist Elena Yarritu- and in an acoustic based world music group with Favored Nations recording artist James Robinson. I also do freelance work with various bands like Brazilian jazz groups, rock outfits and local singer-songwriters. I've performed all over the Bay Area in San Francisco clubs, with James at San Francisco's Union Square, opening for David Sanborn for an AIDS benefit, at San Jose's Tapestry festival, San Jose's Center for Performing Arts, West Valley College, The Mexican Heritage Center and on the main stage with the Unknown Jeromes at Monterey's First Night Festival. I currently play every Saturday night in Mountain View at Cascal with the James Robinson group.
Influences: All of my above teachers, including, John Williams, Al DiMeola, John McLaughlin, Paco De Lucia, Pierre Bensusan, Peter Finger, SRV, Satriani, Vai, Kirk Hammett, the list goes on and on...
Email address: daniel@danielyarritu.com
We carry all the major brand names from:
- Bach trumpets & trombones
- Selmer saxophones
- Conn trumpet & trombones
- King trumpets & trombones
- Yamaha flutes clarinets saxophones trumpets & trombones
- Buffet clarinets
- Eastman violins
- Cannonball saxophones
- Armstrong flutes
- Gemeinhardt flutes
- Michael Kelly guitars
- Greg Bennett guitars
- Samick guitars
- Cordoba guitars
- Deering banjos
- Kremona guitars
- Yamaha guitars
- Latin Percussion bongos & congas
- Ludwig drums
- Peace drums
- Kustom amplifiers
- Vox amplifiers
- Magic Fluke ukuleles
- Kala ukuleles
2971 Union Ave
(at Foxworthy Ave)
San Jose, CA 95124
408 377-2504
5885 Santa Teresa Blvd
(at Snell Ave)
San Jose, CA 95123
408 629-1812
Store Hours
M - F: 11 am - 8 pm
Sa: 10 am - 5 pm