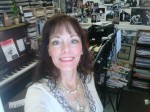 Robin Linden
Instrument: Piano Teacher
Store: Union Store
Family discounts available; also references upon request

Availability:
Monday through Saturday.
Musical Education:
Musician for 40+ years
Music teacher for 20+ years
A.A. in Music, San Jose City College 1996
BA in Music Improvisation, San Jose State University 1999
Golden Key National Honor Society 1995
Phi Kappa Phi Honor Society Member 1996
SJSU President's Scholar - 1997, 1998, 1999, 2000
Teaching style:
Students are exposed to many forms of music but I also focus on their special interests. I provide improvised accompaniment to further develop their musical "ear". Lessons are built on each students strengths whether auditory, visual or tactile. Students are encouraged to sing along with their piano music! I prefer to use the FJH (Faber) music lesson books but will work with other method books. Students work on assigned pieces, theory, technique, and fun pieces that they have chosen in any genre - Popular, Ragtime, Rock, Blues, Jazz, Classical, Folk, Spirituals, etc. Students are encouraged but not required to perform in yearly recitals.
"My desire is that students leave with a smile and true desire to learn music having had an enjoyable experience that they will carry with them forever "
Performing experience:
For five years I was in a large Christian Jazz Band called Sons of Jubal. I Have also played with small jazz groups in college. I have yearly recitals in May.
A musical quote...
"There is more to music than Bach, Beethoven and Brahms! There's also Beatles, Broadway, Billy Joel, Blues, Bebop, Bluegrass, Big Band, Brazilian...to name a few..."
Contact Information:
Phone : 408-483-4186

We carry all the major brand names from:
- Bach trumpets & trombones
- Selmer saxophones
- Conn trumpet & trombones
- King trumpets & trombones
- Yamaha flutes clarinets saxophones trumpets & trombones
- Buffet clarinets
- Eastman violins
- Cannonball saxophones
- Armstrong flutes
- Gemeinhardt flutes
- Michael Kelly guitars
- Greg Bennett guitars
- Samick guitars
- Cordoba guitars
- Deering banjos
- Kremona guitars
- Yamaha guitars
- Latin Percussion bongos & congas
- Ludwig drums
- Peace drums
- Kustom amplifiers
- Vox amplifiers
- Magic Fluke ukuleles
- Kala ukuleles
2971 Union Ave
(at Foxworthy Ave)
San Jose, CA 95124
408 377-2504
5885 Santa Teresa Blvd
(at Snell Ave)
San Jose, CA 95123
408 629-1812
Store Hours
M - Th: 10 am - 8 pm
Fr: 10 am - 6 pm
Sa: 10 am - 5 pm