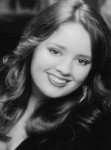 Nicole Cooper
Instrument: Voice Teacher
Store: Santa Teresa Store
Nicole Cooper
Instrument: Voice
Store: Santa Teresa

Teaching Philosophy:
Nicole began teaching voice lessons to beginning singers age 12 and up in 2008. Her goal is to help singers build confidence by improving breath control, tone quality, and musicianship skills. Building a healthy technique will help singers of any musical style improve their performance ability and have fun singing.
About:
As a performer, Nicole has sung with Lyric Theater of San Jose, Mission City Opera, Fremont Opera, Opera Cultura, and the Edinburgh Festival Fringe in Edinburgh, Scotland. She has also appeared as a soloist for local events including graduation ceremonies for San Jose State University, the annual Spring Grill at Sarah's Vineyard of Gilroy, and the concert premiere of Dos Idilios written for her by Venezuelan composer Abi Romero Ramirez. Nicole holds a Master's degree in Voice Performance from San Jose State University where she was awarded as the Most Outstanding Graduate Student.
Musical Quote: "Music is the universal language of mankind." - Henry Wadsworth Longfellow
Email: lessons@thevoiceofnicole.com
Website: thevoiceofnicole.com
We carry all the major brand names from:
- Bach trumpets & trombones
- Selmer saxophones
- Conn trumpet & trombones
- King trumpets & trombones
- Yamaha flutes clarinets saxophones trumpets & trombones
- Buffet clarinets
- Eastman violins
- Cannonball saxophones
- Armstrong flutes
- Gemeinhardt flutes
- Michael Kelly guitars
- Greg Bennett guitars
- Samick guitars
- Cordoba guitars
- Deering banjos
- Kremona guitars
- Yamaha guitars
- Latin Percussion bongos & congas
- Ludwig drums
- Peace drums
- Kustom amplifiers
- Vox amplifiers
- Magic Fluke ukuleles
- Kala ukuleles
2971 Union Ave
(at Foxworthy Ave)
San Jose, CA 95124
408 377-2504
5885 Santa Teresa Blvd
(at Snell Ave)
San Jose, CA 95123
408 629-1812
Store Hours
M - Th: 10 am - 8 pm
Fr: 10 am - 6 pm
Sa: 10 am - 5 pm