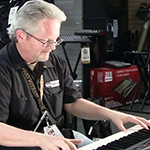 Jim Sealy
Instrument: Acoustic Guitar Teacher, Voice Teacher, Piano Teacher, Electric Guitar Teacher, Guitar Teacher, Digital Piano Teacher
Store: Union Store, Santa Teresa Store
Lessons available for Piano (all styles), Acoustic Guitar (all styles), Ukulele (beginner to intermediate), Vocal Coach, Composition and Theory. All ages!
Long time educator and entertainer in South Bay. Graduate of San Jose State University earning Masters (
Composition & Theory) and Bachelors (Classical Piano Performance). Has performed with San Jose Symphony and Silicon Valley Symphony. Played organ for the San Jose Sharks!
We carry all the major brand names from:
- Bach trumpets & trombones
- Selmer saxophones
- Conn trumpet & trombones
- King trumpets & trombones
- Yamaha flutes clarinets saxophones trumpets & trombones
- Buffet clarinets
- Eastman violins
- Cannonball saxophones
- Armstrong flutes
- Gemeinhardt flutes
- Michael Kelly guitars
- Greg Bennett guitars
- Samick guitars
- Cordoba guitars
- Deering banjos
- Kremona guitars
- Yamaha guitars
- Latin Percussion bongos & congas
- Ludwig drums
- Peace drums
- Kustom amplifiers
- Vox amplifiers
- Magic Fluke ukuleles
- Kala ukuleles
2971 Union Ave
(at Foxworthy Ave)
San Jose, CA 95124
408 377-2504
5885 Santa Teresa Blvd
(at Snell Ave)
San Jose, CA 95123
408 629-1812
Store Hours
M - F: 11 am - 7 pm
Sa: 10 am - 5 pm