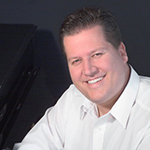 Jeff Spicer
Instrument: Piano Teacher
Store: Union Store
I teach children ages 5 and up, teens, and adults
Availability: Monday through Saturday
Music Education:
B.A. Theater Arts, emphasis in Music
1989, San Jose State University
6 years piano lessons with Eudora Lee and Sue Wirth - Foundation
Additional Advanced piano training in theory and Classical technique
received from Brian Hammons B.A., Holly Lasky M.A., Martan Mann and Eileen Schaeffer
Piano Workshops attended: Randall Faber, Melody Bober, Mona Rejino, Carolyn Miller,
Lori Bastien, Philip Keveran, Randall Hartsell, and Nancy Bachus.
Music Experience:
-Over 20 years professional piano teaching experience
-30 years Professional pianist for weddings, parties, concerts, church worship
-Composer of over 100 solo piano and vocal songs
Piano Teaching Style:
I teach using Piano Adventures and Alfred piano courses: Sight-reading, theory, technique,
and repertoire. I am a contemporary style teacher with a gentle and patient personality.
I don't teach ONLY CLASSICAL. I do teach Classical as well as Popular, Jazz, Blues, and
all other styles of music.
Contact Information:
email: jeff.spicer@att.net
phone: (408)893-4442
More information can be found on my website: JeffSpicerPiano.com
We carry all the major brand names from:
- Bach trumpets & trombones
- Selmer saxophones
- Conn trumpet & trombones
- King trumpets & trombones
- Yamaha flutes clarinets saxophones trumpets & trombones
- Buffet clarinets
- Eastman violins
- Cannonball saxophones
- Armstrong flutes
- Gemeinhardt flutes
- Michael Kelly guitars
- Greg Bennett guitars
- Samick guitars
- Cordoba guitars
- Deering banjos
- Kremona guitars
- Yamaha guitars
- Latin Percussion bongos & congas
- Ludwig drums
- Peace drums
- Kustom amplifiers
- Vox amplifiers
- Magic Fluke ukuleles
- Kala ukuleles
2971 Union Ave
(at Foxworthy Ave)
San Jose, CA 95124
408 377-2504
5885 Santa Teresa Blvd
(at Snell Ave)
San Jose, CA 95123
408 629-1812
Store Hours
M - Th: 10 am - 8 pm
Fr: 10 am - 6 pm
Sa: 10 am - 5 pm