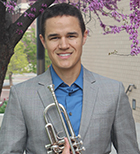 Russell Zimmer
Instrument: Trumpet Teacher, Trombone Teacher, French Horn Teacher
Store: Santa Teresa Store
Russell Zimmer recently received his doctorate (DMA) from the University of Nebraska- Lincoln Glenn Korff School of Music where he studied trumpet performance and jazz pedagogy. In addition to scholarly research, Russell is an active performer and has performed throughout the San Francisco Bay Area, Los Angeles area, Louisville, Kentucky and the Omaha and Lincoln metro areas in the Classical, Jazz, Big Band, R&B/ Soul, Rock, Funk, Pop, Latin and Salsa genres.
Russell has been teaching trumpet, French horn, trombone, piano, and jazz improvisation privately for over 10 years to students of various skill levels and ages. He currently is the Jazz Director and High Brass Specialist at Saint Francis High School and performs with several professional groups throughout the South Bay.
Recent Teaching Experience:
- Jazz Director, Saint Francis High School (2016 to present)
- Private Music Instructor (2006 to present)
- Applied Jazz Trumpet Instructor – University of Nebraska, Lincoln (2015-2016)
- Graduate Teaching Assistant – University of Nebraska, Lincoln (2013-2016)
Brass Quintet Instructor

Jazz Combo Instructor

Big Band Assistant Director

Regular Guest Lecturer in Rock History
Teaching Philosophy: I believe that every student has different interests and needs. I will create a detailed lesson plan and practice routine catered to each individual student's musical aspirations while instilling a strong foundation in the fundamentals of the instrument.
Education:
- Doctor of Musical Arts in Trumpet Performance and Jazz Pedagogy, University of Nebraska, Lincoln, 2016
- Master of Music in Jazz Trumpet, University of Louisville, 2011
- Bachelor of Music in Jazz Studies, San Jose State University, 2009
- Skidmore Summer Jazz Institute, 2010
- Jamey Aebersold Summer Jazz Workshop, 2008
- Previous private study with Eric Bolvin, Jeff Lewis, Larry Souza
russellzimmertrumpet@gmail.com
We carry all the major brand names from:
- Bach trumpets & trombones
- Selmer saxophones
- Conn trumpet & trombones
- King trumpets & trombones
- Yamaha flutes clarinets saxophones trumpets & trombones
- Buffet clarinets
- Eastman violins
- Cannonball saxophones
- Armstrong flutes
- Gemeinhardt flutes
- Michael Kelly guitars
- Greg Bennett guitars
- Samick guitars
- Cordoba guitars
- Deering banjos
- Kremona guitars
- Yamaha guitars
- Latin Percussion bongos & congas
- Ludwig drums
- Peace drums
- Kustom amplifiers
- Vox amplifiers
- Magic Fluke ukuleles
- Kala ukuleles
2971 Union Ave
(at Foxworthy Ave)
San Jose, CA 95124
408 377-2504
5885 Santa Teresa Blvd
(at Snell Ave)
San Jose, CA 95123
408 629-1812
Store Hours
M - F: 11 am - 8 pm
Sa: 10 am - 5 pm