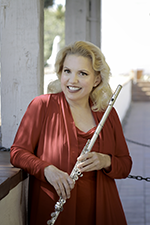 Kris Palmer
Instrument: Flute Teacher
Store: Union Store
With over 25 years experience as a highly qualified private flute instructor (also teaches Piccolo, Alto Flute, and Bass Flute), Kris Palmer holds a Doctorate of Musical Arts in Flute Performance from Rice University. Dr. Palmer is a frequent guest lecturer on 18th-century performance practice, with lectures this season at the Mid-Atlantic Flute Convention, and the MTAC State Convention.
Kris Palmer's musical awards include first prize in the Carmel Chamber Music Competition, second prize in the NFA Young Artist Competition, a Carnegie Recital Debut with Artists International, and a grant from the San Francisco Friends of Chamber Music. She is a former member of the New Mexico Symphony Orchestra and is a solo recording artist and the found and director of Black Cedar.
Private flute lessons with Dr. Palmer includes: instrument technique, music theory, solo repertoire, chamber music repertoire, annual solo, chamber music performances, coaching and preparation for competitions and auditions.
DR. PALMER'S FLUTE STUDENTS HAVE RECEIVED AWARDS AND HONORS FROM...
CBDA All State Honor Band
Nor Cal All State Honor Band
Junior Bach Festival
Bay Area Music Association Competitions
CMTANC International Music Competition
MTAC Certificate of Merit Convention Honors
Phone: 650-868-3150 
email: kris@krispalmer.com
We carry all the major brand names from:
- Bach trumpets & trombones
- Selmer saxophones
- Conn trumpet & trombones
- King trumpets & trombones
- Yamaha flutes clarinets saxophones trumpets & trombones
- Buffet clarinets
- Eastman violins
- Cannonball saxophones
- Armstrong flutes
- Gemeinhardt flutes
- Michael Kelly guitars
- Greg Bennett guitars
- Samick guitars
- Cordoba guitars
- Deering banjos
- Kremona guitars
- Yamaha guitars
- Latin Percussion bongos & congas
- Ludwig drums
- Peace drums
- Kustom amplifiers
- Vox amplifiers
- Magic Fluke ukuleles
- Kala ukuleles
2971 Union Ave
(at Foxworthy Ave)
San Jose, CA 95124
408 377-2504
5885 Santa Teresa Blvd
(at Snell Ave)
San Jose, CA 95123
408 629-1812
Store Hours
M - F: 11 am - 8 pm
Sa: 10 am - 5 pm