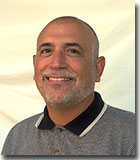 Mike Cozzolino
Instrument: Piano Teacher
Store: Santa Teresa Store
Musician for 31+ years
Music teacher for 24 years. Teaching since 1984 at Music Village. Lessons for ages 5 and up.
Teaching style: Classical, jazz, swing, country, worship & pop
Teaching philosophy: "Music is a gift from God, everyone should experience some form of training. Music makes us feel good about others and ourselves. From Bach to The Backstreet Boys, music can give us a feeling of self worth and self esteem that does not exist anywhere else. As a teacher, I believe it is my ministry to help each one of my students enjoy all aspects of music... 'Music is the soul's own speech'."
Musical Education: BS in Music Education
Musical influences: too many and varied to list
A musical quote...
"I enjoy teaching music because teaching is for me the most rewarding aspect of life. The experience of watching and guiding students in a new form of expressing themselves is just plain fun!"
Text or call: (408) 373-9327
We carry all the major brand names from:
- Bach trumpets & trombones
- Selmer saxophones
- Conn trumpet & trombones
- King trumpets & trombones
- Yamaha flutes clarinets saxophones trumpets & trombones
- Buffet clarinets
- Eastman violins
- Cannonball saxophones
- Armstrong flutes
- Gemeinhardt flutes
- Michael Kelly guitars
- Greg Bennett guitars
- Samick guitars
- Cordoba guitars
- Deering banjos
- Kremona guitars
- Yamaha guitars
- Latin Percussion bongos & congas
- Ludwig drums
- Peace drums
- Kustom amplifiers
- Vox amplifiers
- Magic Fluke ukuleles
- Kala ukuleles
2971 Union Ave
(at Foxworthy Ave)
San Jose, CA 95124
408 377-2504
5885 Santa Teresa Blvd
(at Snell Ave)
San Jose, CA 95123
408 629-1812
Store Hours
M - F: 11 am - 8 pm
Sa: 10 am - 5 pm