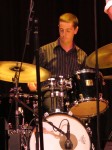 Dillon Vado
Instrument: Drums Teacher, Percussion Teacher
Store: Union Store
Dillon has experience performing on a variety of instruments. He has
marched with the Santa Clara Vanguard Winter Drumline, and taught drumline at local
high schools. While primarily playing the drum set, Dillon can also teach basics of
certain "Latin" percussion instruments. He is also an active jazz vibraphonist, so students
can choose to study both drum set and mallet percussion.
Teaching Experience:
-Private Drum Instructor (2010-present)
-Drumline Instructor/Jazz Band Clinician - Los Gatos High School (2010-2012)
-Percussion Instructor - Monroe Middle School (2011-present)
-Drumline Instructor - Del Mar High School (2009-2010)
Education:
-The Jazzschool Institute (Pursuing B.M in Jazz Studies) (2011-present)
-West Valley College (2009-2012)
Also, studied with: Galen Lemmon, Jason Lewis, David Flores, and Christian Tamburr.
Performance Experience:
-Santa Clara Vanguard Winter Percussion (Snare Drum)
-Runs a regular Jazz practice session (on the second Thursday of every month) at the SLG Art Boutiki and Gallery.
-Can be heard on numerous recordings through Slabyard Sound.
-Musical Theater Credits include Follies, The Bandstand Beat, Little Shop of Horrors, Thoroughly Modern Millie, and You're A Good Man Charlie Brown.
Bands include: Grooveyard Shift (Band leader-Vibraphone)
Jackie Gage and the JurassiC (Vibraphone)
The Tiger Club (Drums)
Bacchus Joint (Drums)
Slabyard (Drums)
Has played and recorded at Yoshi's Oakland, The Freight and Salvage, Fantasy Studios,
City Lights Theater, SLG Art Boutiki and Gallery, and the Theater on San Pedro Square.

We carry all the major brand names from:
- Bach trumpets & trombones
- Selmer saxophones
- Conn trumpet & trombones
- King trumpets & trombones
- Yamaha flutes clarinets saxophones trumpets & trombones
- Buffet clarinets
- Eastman violins
- Cannonball saxophones
- Armstrong flutes
- Gemeinhardt flutes
- Michael Kelly guitars
- Greg Bennett guitars
- Samick guitars
- Cordoba guitars
- Deering banjos
- Kremona guitars
- Yamaha guitars
- Latin Percussion bongos & congas
- Ludwig drums
- Peace drums
- Kustom amplifiers
- Vox amplifiers
- Magic Fluke ukuleles
- Kala ukuleles
2971 Union Ave
(at Foxworthy Ave)
San Jose, CA 95124
408 377-2504
5885 Santa Teresa Blvd
(at Snell Ave)
San Jose, CA 95123
408 629-1812
Store Hours
M - F: 11 am - 8 pm
Sa: 10 am - 5 pm