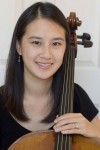 Daisy Bate
Instrument: Cello Teacher
Store: Union Store, Santa Teresa Store
*Accepting students ages 7-Adult
*All levels are welcome (beginning through advanced)
Daisy Bate graduated with her Master of Music degree in cello performance from Indiana University. She has been performing for twenty years and has ten years of teaching experience. Daisy has a love for sharing music with those around her. In addition to maintaining a private studio, she has also been on faculty at the Riverbend Academy School of Visual and Performing Arts, the Lake Sequoia Music camp, and was a teaching assistant at the Brevard Summer Music Festival.
Also an active orchestral musician, Daisy has served as principal cellist with the Indiana University Concert Orchestra, the UC Irvine Symphony Orchestra, and the South Orange County Chamber Orchestra. Other orchestras she has performed with include the Louisville Orchestra, Richmond Symphony, Evansville Philharmonic Orchestra, Owensboro Symphony Orchestra, Orchestra Kentucky of Bowling Green, Indiana University Conducting Orchestra, and the Bloomington Camerata Orchestra.
For more information, please visit: www.daisybate.com.
We carry all the major brand names from
- Bach trumpets and trombones,
- Selmer saxophones,
- Conn trumpet and trombones,
- King trumpets and trombones,
- Yamaha flutes clarinets saxophones trumpets and trombones,
- Buffet clarinets,
-Tiery Oboes by Fossati,
- Glaesel violins,
- Cannonball saxophones and trumpets,
- Armstrong flutes,
- Getzen trumpets,
- Gemeinhardt flutes,
- Amadeus flutes by Haynes ,
- Scherl & Roth violins,
- Michael Kelly guitars,
- Greg Bennett guitars,
- Samick guitars,
- Latin Percussion bongos and congas,
- Toca bongos and congas,
- Ludwig drums,
- Walden guitars,
- Kustom amplifiers,
- Takamine guitars,
- Kala ukuleles and many, many more!
2971 Union Ave
(at Foxworthy Ave)
San Jose, CA 95124
408 377-2504
5885 Santa Teresa Blvd
(at Snell Ave)
San Jose, CA 95123
408 629-1812
Store Hours
M - Th: 10 am - 8 pm
Fr: 10 am - 6 pm
Sa: 10 am - 5 pm