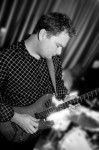 Bill Ireton
Instrument: Acoustic Guitar Teacher, Bass Guitar Teacher, Electric Guitar Teacher, Guitar Teacher
Store: Union Store, Santa Teresa Store
Musician for 30+ years
Teaching since 2002 at Music Village Lessons for ages 5 and up, all levels, all interests
Teaching style: Jazz, Rock, Funk, and Blues
Teaching philosophy: "Teach them what they like!"
Musical Education: BA in Music Performance - San Jose State University
Musical influence: Jimi Hendrix
A musical quote...
"I enjoy teaching because it's exciting to watch students excel."
My offical web site
We carry all the major brand names from
- Bach trumpets and trombones,
- Selmer saxophones,
- Conn trumpet and trombones,
- King trumpets and trombones,
- Yamaha flutes clarinets saxophones trumpets and trombones,
- Buffet clarinets,
-Tiery Oboes by Fossati,
- Glaesel violins,
- Cannonball saxophones and trumpets,
- Armstrong flutes,
- Getzen trumpets,
- Gemeinhardt flutes,
- Amadeus flutes by Haynes ,
- Scherl & Roth violins,
- Michael Kelly guitars,
- Greg Bennett guitars,
- Samick guitars,
- Latin Percussion bongos and congas,
- Toca bongos and congas,
- Ludwig drums,
- Walden guitars,
- Kustom amplifiers,
- Takamine guitars,
- Kala ukuleles and many, many more!
2971 Union Ave
(at Foxworthy Ave)
San Jose, CA 95124
408 377-2504
5885 Santa Teresa Blvd
(at Snell Ave)
San Jose, CA 95123
408 629-1812
Store Hours
M - Th: 10 am - 8 pm
Fr: 10 am - 6 pm
Sa: 10 am - 5 pm