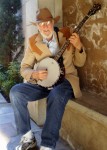 Mark Johnson
Instrument: Banjo Teacher
Store: Santa Teresa Store
Mark Johnson taught Scruggs style bluegrass banjo at Music Village in the 1970s and 80s. He also taught fingerstyle (popular music) for guitar. He uses both standard notation and tabulature but insists on laying a proper foundation for reading music. Mark has his teaching credential and has conducted group classes in local schools and churches.
We carry all the major brand names from
- Bach trumpets and trombones,
- Selmer saxophones,
- Conn trumpet and trombones,
- King trumpets and trombones,
- Yamaha flutes clarinets saxophones trumpets and trombones,
- Buffet clarinets,
-Tiery Oboes by Fossati,
- Glaesel violins,
- Cannonball saxophones and trumpets,
- Armstrong flutes,
- Getzen trumpets,
- Gemeinhardt flutes,
- Amadeus flutes by Haynes ,
- Scherl & Roth violins,
- Michael Kelly guitars,
- Greg Bennett guitars,
- Samick guitars,
- Latin Percussion bongos and congas,
- Toca bongos and congas,
- Ludwig drums,
- Walden guitars,
- Kustom amplifiers,
- Takamine guitars,
- Kala ukuleles and many, many more!
2971 Union Ave
(at Foxworthy Ave)
San Jose, CA 95124
408 377-2504
5885 Santa Teresa Blvd
(at Snell Ave)
San Jose, CA 95123
408 629-1812
Store Hours
M - Th: 10 am - 8 pm
Fr: 10 am - 6 pm
Sa: 10 am - 5 pm