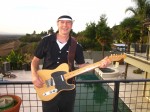 James Lewis
Instrument: Acoustic Guitar Teacher, Electric Guitar Teacher, Guitar Teacher
Store: Union Store
James Lewis: Electric & Acoustic Guitar, Bass Guitar, Ukulele, Songwriting & Music Production

Cell: 831-818-9408

Email: PlayYourGuitar@comcast.net

Website: YourGuitarCoach.info

Please visit website for additional info, introductory video, music, bio, syllabus, session policy and more!




Introduction

Imagine how incredible it would be to play the music you love, write your own songs and perform with other musicians? Exploring the music arts is a rewarding way to express your unique creative abilities. Whether you're a new artist or looking to expand your musical horizons, James has the patience and expertise to guide you to a level of personal satisfaction and beyond.




Course Objectives

Insure you progress, sooner!

Encourage exploration of the music you love.

Focus on techniques which allow you to perform your favorite styles.

Enhance your working knowledge of your instrument.




1st Session Free

2nd Session Free with any guitar or ukulele purchase!




Call now to schedule your complimentary introductory session!
Introduction Video www.YourGuitarCoach.info
Sessions Overview
Our Main site for info is: www.YourGuitarCoach.info

Internet access provides fun jam tracks which put you in the band!

"Our Guitar Site" contains charts and diagrams used in sessions.
Check it out at http://home.comcast.net/~playyourguitar/site/
Additional material available in the "Guitar Tool Box" - a free online folder containing chords & lyrics for popular songs as well as streaming audio files for all method books used in session. www.dropbox.com

"Guitar Speed Trainer" software is integrated into sessions as a proven method for increasing speed and accuracy
Go to http://www.guitarspeed.com/gst/trial.asp
Guitar Coaching History
Music Village (2006-Present) 2971 Union Ave San Jose, CA 95124
Park Avenue Music Center (2013-Present) 1717 Park Avenue, San Jose, CA 9512
Beacock School of Music (1991-1999) Sierra Road, San Jose, California
Music Miracles (2001-2003) Cropley Avenue, San Jose, California
Studio Alum Rock! (2003-Present) Talmadge Avenue, San Jose, California
Performance History
1966: (8 years young) First private instruction
1972-1976: Guitar Showcase Music Institute:
Received electric jazz guitar instruction from Dave Costa and Ron Veliz.
1974: Formed rock group with friends, HedRush
1977: UCSD music major. Performed in cover band Ocean
1979-1980: Toured Northwest US and Canada in Soul dance band Midas Touch
1981-1983: Recorded and performed original material with Life On Earth
1983-1985: Performed with fusion jazz group Cheetah
1985-1986: Performed original material with female pop/rock singer Katy Boyd
1986-1987: Recorded and performed original material with blues group Billy Joslyn and Serious Fun
1986-1988: Recorded and performed original material with alt/rock trio Short Stories
1989- Present: Substitute in cover bands Black Market Orchestra and Full Motion
1999-2002: Produced and performed original material with California Country group GhosTown
2003-2004: Produced and performed original material with singer/songwriter Kelsi Arnold.
2005-Present: Composing and recording original material on independent label Time Designs
Sample Discography
Life on Earth – There Is... {1982 Time Designs Records}
Sarai – Para Bailar Con Usted {1985 BMG Music}
In the Gardens of Grace – {1995 World Awakening Music}
DASH! – And It Don't Stop! {1999 Infiniti Records}
Kirtana – This Embrace {1999 Wild Dove Music}
John Cirillo & GhosTown {2002 GhosTown Records}
We carry all the major brand names from:
- Bach trumpets & trombones
- Selmer saxophones
- Conn trumpet & trombones
- King trumpets & trombones
- Yamaha flutes clarinets saxophones trumpets & trombones
- Buffet clarinets
- Eastman violins
- Cannonball saxophones
- Armstrong flutes
- Gemeinhardt flutes
- Michael Kelly guitars
- Greg Bennett guitars
- Samick guitars
- Cordoba guitars
- Deering banjos
- Kremona guitars
- Yamaha guitars
- Latin Percussion bongos & congas
- Ludwig drums
- Peace drums
- Kustom amplifiers
- Vox amplifiers
- Magic Fluke ukuleles
- Kala ukuleles
2971 Union Ave
(at Foxworthy Ave)
San Jose, CA 95124
408 377-2504
5885 Santa Teresa Blvd
(at Snell Ave)
San Jose, CA 95123
408 629-1812
Store Hours
M - Th: 10 am - 8 pm
Fr: 10 am - 6 pm
Sa: 10 am - 5 pm